Before hitting the Reservation button please read about our parties.
Once the deposit has been done it is NON-REFUNDABLE
For members and non members, all ages
click "ONLINE PARTY RESERVATIONS" BUTTON TO RESERVE YOUR PARTY
You must book your party AT LEAST 8 Days in advance.
A $50 NON-REFUNABLE Deposit must be made at time of booking.
**** parties must be reserved at least 8 days in advance ***
Any party booked 8 days or less in advanced is not guaranteed until confirmed. Please call ahead to book parties for the current week.
If you would like to book a party for the current week or have any questions
please call 360-367-6800
---------------------------------------------------
All Parties are 2 hours long.
*This time INCLUDES your set up and clean up times.
*You may arrive NO EARLIER then 5 minutes before your start time.
*You should be cleaned up and out of the party room by the END of your two hours.
Weekend Private Parties are 2 hours - First 75 minutes in the Bounce area last 45 minutes are in the Party Room
Weekend Parties -Because we rotate parties between the Bounce area and Party Room, your guests will not be allowed back in the Bounce area once you have started your party room time. You can have a up to 30 guests.
Open Play Parties are 2 hours of fun with private use of party room your whole 2 hours!
You may only have up to a MAX of 12 kids (ages walking to 17 yrs.) old during Open Play Parties.
(We do not have Open Play parties during school holidays)
* 7pm Weekday parties have full use of the facility their whole party time.
7 pm Weekend parties have full use of the facility from 7:30pm until the end of their party.
You bring your own paper products, food and table decorations to add your touch to the party. At the end of the party you just take your stuff and we do all the cleaning! Decorations will only be allowed on the tables, no decorations are allowed on the walls. We will supply the table cloths - we have 10 plus colors to choose from. Please bring anchors for balloons, since we are in a warehouse. Remind your guest they must wear socks on the Bouncers.
**Party Hint - bring a few extra pairs of socks for those guests who may forget.
We do sell socks that your guest may purchase if they forget theirs!
All Guests Must Fill Out a Waiver upon arrival.
To save time they can print waiver below and bring with them.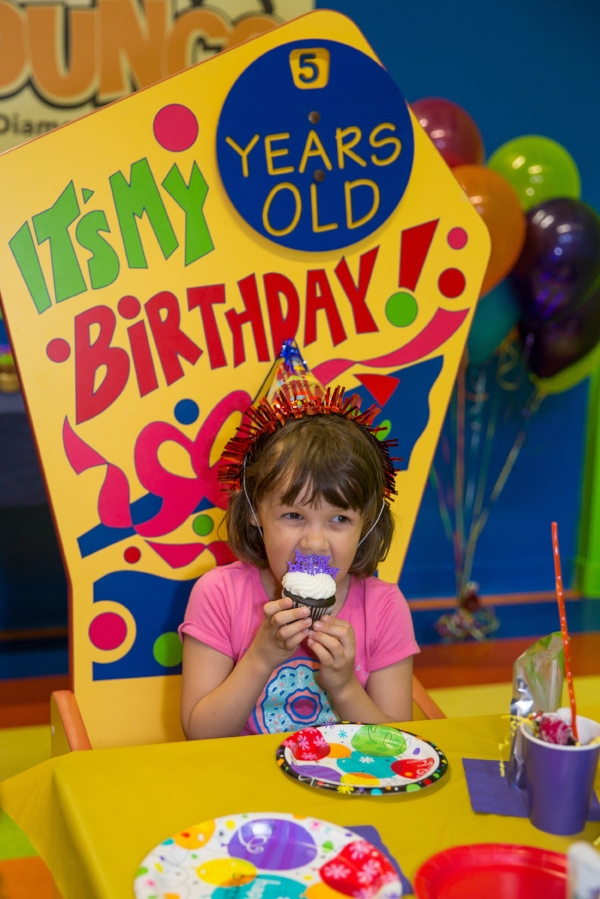 Birthdays are always a blast at BOUNCE!
#1 - Weekday Open Play Party
Weekday Monday-Friday
During Open Play Session
$125
Birthday party
2 Hour Party
Up to 12 kids Max
2 hrs. of Bouncing fun
with Private use of Party Room
*We do not do OPEN PLAY Parties during
School Holidays AND CLOSURES*
Party time slots are:
Noon and 4:00
#2 - Weekday Private Bounce Party
Weekday Monday-Thursday
$199
2 Hour Party
Up to 30 kids
Private use of whole facility
7:00 pm
#3 - Friday Private Bounce Party
Friday
$229
2 Hour Party
Up to 30 kids
Private use of whole facility
Party time slots are:
7:00 pm
#4 - Weekend Private Bounce Party
Saturday & Sunday
$269
2 Hour Party
Up to 30 kids
Bounce first 75min last, 45min party room
Party time slots are:
11:30am, 1pm, 2:30pm 4pm, 5:30pm, 7pm
Party prices do not include sales tax**
All parties include:
Private party room

table cloths (10 colors to choose from)

Use of fridge/freezer

cake server

ice cream scoop

lighter

pizza warming bags

utility cart

Parties are 2 hours - this includes your set up/clean up time. You may arrive 5 minutes before your party starts to check in.

Longer parties are available please call for more information

$50 non-refundable deposit is required for all party reservation

*once deposit is made it is Not Refundable or transferable.
You can print off a WAIVER ahead of time, or sign one when you come in. Look for Waiver under "CONTACT"